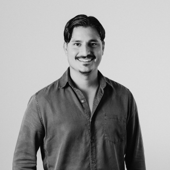 Bryan Santamaria
Software Engineer – Product & Platform
My biggest motivations are  Doing things that are scary and challenging. I like being out side of my comfort zone learning new things.

In my spare time I play golf and hang out with my friends. I love being active, enjoy cooking and spending time with my family.

I like to eat almost anything, the more authentic, the better! Top right now: street food, italian and mexican.
When I need energy I listen to a lot of hiphop/rnb/afrobeats - and from time to time some pop! I rarely walk anywhere without music in my ears.
I like to watch our planet and national geographic.