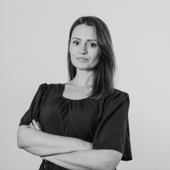 Micaela Kokko
Content Manager – Marketing
My biggest motivations are great stories! Hearing them, reading them, telling them...
In my spare time I hang out with friends and family, cook, travel, read and write. 
I like to eat ceviche
When I need energy I listen to Bad Bunny, Rauw Alejandro, J Balvin - anything reggaeton!
I like to watch Succession or other character-driven series/films.