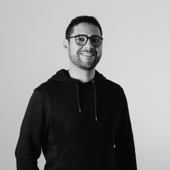 Rafael Cappelletti
Head of Product – Product & Platform
My biggest motivations are to learn, be challenged and solve real problems which customers pay for.
In my spare time I have fun with my wife and son, grab a beer with friends, exercise and go to music festivals.
I like to eat sushi & barbecue.
When I need energy I listen to electronic or punk rock music.
I like to watch to suspense and thriller movies.